If you plan to stream on our new ReliaStream Centova Cast V3 servers using the mp3 format you will need to purchase the WinAmp mp3 license first. The steps below will show you where to enter your mp3 license within the Centova Cast V3 software. The WinAmp license is a one time $5 fee and is paid directly to WinAmp (not ReliaStream). You will be required to go to their site to purchase this license. If you do not want to pay this fee you can either broadcast using AAC+ or request to be switched to one of our Centova Cast V2 servers. Centova Cast V2 servers are running ShoutCast version 1.9.8 software and do not require the mp3 license.

STEP 1
Once you are logged into your new Centova Cast V3 (CC3) account you will want to search for Settings. This is located in the Configuration area. Click on settings and look for the AutoDJ tab in the middle of your screen. Once you click on the AutoDJ tab you will see MP3 unlock name and MP3 unlock Code. This is where you will enter that information.


STEP 2

On the same screen you will notice the Unlock code details... available here. You can click on
available here
and you will be guided through the mp3 license purchase pricess. You will be first taken to a WinAmp wiki page. This will explain why you have to buy this mp3 license and why AAC+ is free. Either way you have to pay the $5 to stream mp3. The direct link to buy the $5 mp3 license is here
CLICK HERE TO BUY MP3 LICENSE
. Winamp has been known to change their links so if that link stops working use the links on your CC3 server.

STEP 3

If you hover over the little i icon a window pops up explaining the whole mp3 license process. Once you have purchased your mp3 license go back and enter that information into your MP3 unlock name and MP3 unlock code area. Be sure to press UPDATE button.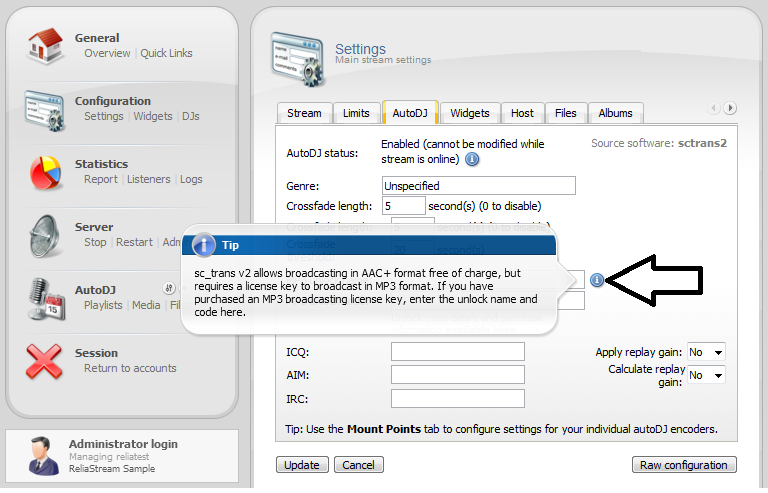 STEP 4

Now that your MP3 unlock information is entered you will want to change your mount point audio encoder to MP3. You will click on Settings in the Configuration area (left side). Then click on the Mount Points tab. You will now see the /stream mount point. If you have more then one mount point choose the mount point(s) that you want running off mp3. Double click on /stream. You should now see the Audio encoder option. Switch that to MP3 and press the UPDATE button. Now this was a major update so you will want to do a full server restart after you press the update button. This will refresh the server with the new settings.